Package Holiday Deals 2022/2023
Love the Canary Islands? Want to catch some rays in Crete? Looking for a bargain beach break to make 2022 a year to remember? You've come to the right place! We've rounded up some fantastic deals to our favourite holiday hotspots.
April 2022 Holiday Offers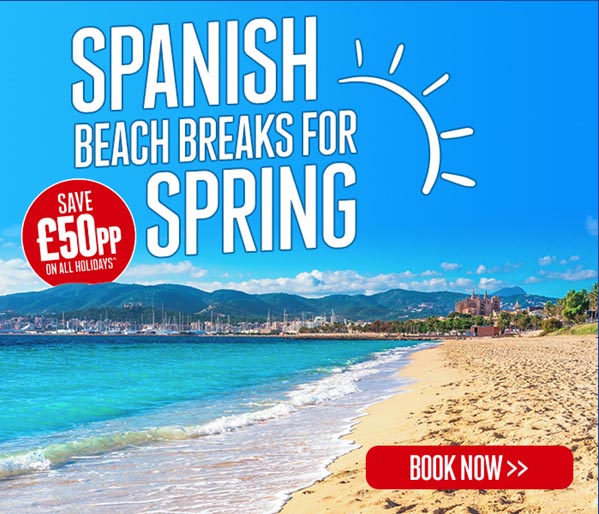 Don't get me wrong, I love a cheeky short-haul beach holiday as much as the next guy. But, there are a few things that a quick hop to Spain just can't offer. Like those extra-comfy seats whilst you watch a film on the plane, an outrageously-good authentic Margarita in a Mexican hotel bar or climbing up to the viewing deck of the world's tallest building - all for the 'gram. That kind of stuff can only be experienced on a long-haul escape.
Featured Universal Orlando Holidays
Tell us where and we'll take you there
Sunny Spanish Favourites
Where will you go?
Longing for a summer holiday this year? Now we've been given the go-ahead to visit some of our favourite sun-soaked destinations, it's finally time to make those beachy daydreams a reality once more!
Bargain Breaks
Fancy a New Year's adventure?
Destinations we're sure you'll love exploring
YOU COULD BE STAYING IN...
NEARBY BREAKS TO RELAX YOU
EXOTIC ADVENTURES TO ESCAPE TO
---
HANDPICKED HOTELS
---
Holidays to suit you
---
---
Featured Holiday Resorts
Turkey
Looking for a sunny destination for your summer holiday? Turkey's perfect! Think sandy beaches, turquoise seas and so many different resorts that you'll be spoilt for choice. From peaceful places like the Blue Lagoon and awe-inspiring Roman ruins, to All Inclusive hotels and fantastic entertainment, there's a Turkey to suit you.
Egypt
When you want to get away to somewhere warm, sunny and completely relaxing, head for the Red Sea. It's the perfect combination of sandy beaches, beautiful views and world-class hotels, with exciting activities too. Think water sports, scuba diving, and adventures to ancient pyramids and the River Nile. Book your Egyptian escape today.
Tunisia
Fancy a taste of the exotic? If it's golden sands, desert dunes and turquoise seas you're after, then you need a holiday to Tunisia. Book yourself a break to remember, where Roman ruins bask in the Saharan sun and you can sip cocktails in your relaxing hotel after a day visiting movie locations. Go on, give yourself something amazing to look forward to!
Our site offers 1000's of discount holidays from leading tour operators. No matter what type of holiday you require you can find something suitable on our site from Beach breaks, Cruises,, Exotic Locations, Far East Adventures or City Breaks. We also feature some great late availability and special offers. We send you direct to the tour operator where you can safely make your booking and start packing your suitcases!
From little ones in nappies to teenagers ready to spread their wings, every family's different. You'll always find a holiday that fits when you book with us, as we've got a great range of family-friendly getaways for you to choose from. With kids' clubs, beautiful pools and food for even the fussiest of eaters, you'll have the time of your lives.
What kind of holiday are you looking forward to? Whether you love to spend time at the beach, tuck into mouth-watering food, or head out and explore, you'll have an unforgettable holiday with Thomas Cook Hotels & Resorts. There's something for every taste and budget, from simply styled hotels to top-quality escapes.
---
Our range of holidays
Adult Escapes
Whether an adult-only rooftop pool or simply sharing a table in the sunset is your idea of paradise, you'll find something to appeal uniquely to you with our adult holidays. Our hand-picked ranges have a variety of stylish, luxurious and great value hotels on offer, where switching off and kicking back are the order of the day.
Cocktails by the pool and that second helping of dessert – these holidays dish up all the things that are great about All Inclusive, in a relaxed, adult-focused setting. Whether you're a couple, travelling with friends or going it alone, it's so much easier when practically everything is included in the price.
Our Adults Only range features properties with a child-free environment and distinctly grown-up flavour. Such a stress-free setting means you can look forward to recharging your batteries in total tranquillity, ensuring nothing comes between you and having a great holiday.
Adults Luxe brings together a collection of impressive four and five-star hotels that are exclusively aimed at adults. You could be right by the beach or nestled among outstanding scenery, but stylish décor, á la carte dining, and plenty of 'me time' will always be on the menu.
Beach Holidays
It's safe to assume you'll spend a big chunk of your holiday at the beach. But not all beaches are made the same. Whether you're after scenic and secluded, sporty and action-packed, or fun and frivolous, we've got something that's sure to be right up your beach…
Baking and DIY are all well and good, but holidays abroad beat them hands down. Put down the flour, step away from the drill and book your next holiday now – let's get you back on the beach! From the Caribbean's milk-white sands to the Greek Island's bright-blue waters, get access to some of the world's most famous beaches.
From Europe to the Caribbean, Live Happy picking from over 70 holiday destinations across the globe.
TUI Family Resorts
Keeping the entire family pleased on vacation could be complicated yet the brand brand-new TUI Family Resorts collection is made to make it easy. We're not just talking with regards to places with youngsters' swimming pools as well as play grounds. We've considered all the specifics like youngsters's buffets and interconnecting rooms.
Family holidays just got even better! Thanks to our fantastic Free Child Places, you can take the youngsters for nada! That means you'll have more to spend on ice creams, souvenirs and days out exploring. How good is that?
Family Holidays
Action-packed kids' clubs, children's buffets and family-sized rooms – we deliver family holidays that tick all the boxes.
Sensatori
For the ultimate spoil-me-silly household holidays, why not whisk your liked ones off to Sensatori? Rather simply, Sensatori is a brand-new generation of stylish resorts exclusively from TUI. Whether you decide to vacation in Mexico or Crete, you'll quickly locate yourself delighting in all type of luxury, from scrumptious eating to luxurious health club treats. As well as when it pertains to family members, rest ensured we've obtained activities galore to keep any ages delighted.
Florida and Walt Disney
It's what vacation dreams are made from. Perfect for family holidays, America's premier theme park main has delights, spills and also splashes galore - in addition to shopping centers as well as mile upon mile of shimmering sands. If you're trying to find the ultimate family vacation, the Sunshine State has it all. Whatever you're searching for in a holiday-you're sure to locate it in the Sunshine State. From loop-the-looping at Walt Disney World to relaxing on the beaches at Clearwater and also St-Pete's. From themed resorts in the heart of the action, to sophisticated, out-of-town villas.
All inclusive holidays
Give your budget a break. Book an All inclusive vacation and as well as you'll have all your meals, beverages and snacks included in the rate. You'll likewise obtain tons of hotel activities included, and also using numerous facilities throughout your visit.
This summer, whisk your family away for all kinds of fun in the sun. Book your All Inclusive escape today for playtime with the kids at the pool, exciting family activities, child-friendly restaurants and entertainment that will bring you all together. We've got a great range of holidays in popular summer destinations; so, where do you want to go?
Holidays are all about feeling pampered, so you can relax without a care in the world. That's why you should give yourself a proper break with one of our All Inclusive escapes. You'll get your meals and drinks included, so budgeting's easy, plus activities and entertainment for your whole family. Get ready for your most relaxing holiday yet.
You can't beat going All Inclusive on holiday. It means you can keep an eye on your budget without encountering any hidden surprises at breakfast, lunch or dinner. You'll have three meals a day and certain drinks and snacks included, so you don't have to worry about your wallet while you're chilling out. But which All Inclusive hotels are the best of the bunch?
Every holiday should feel like a treat, and that's why you'll love our All Inclusive breaks. With all the key ingredients of a fantastic getaway already paid for, like meals and entertainment, you can look forward to the relaxing escape you really deserve. It's the perfect way to spend quality time together, without a care in the world.
The ultimate hassle-free holiday where everything's taken care of for you – flights, accommodation, transfers, and food and drink.
Do you like the idea of relaxing by the pool or beach knowing that all your meals, drinks and entertainment are arranged and paid for? If so, then an all-inclusive holiday is perfect for you! You'll have peace of mind ahead of travelling, leaving you with nothing more to do when you arrive, other than enjoy your well-earned break. Go on treat yourself, you deserve it!
Summer Holidays
Summer's made for family time, so make it count with a longer holiday. That's more time for the beach, for swimming, for exploring, and for ice cream! We've got a fantastic range of family holidays with 10 to 14 night durations, so you can take your pick from all kinds of sunny destinations; from the Canary Islands to Mexico.
If a week doesn't sound quite long enough but you can't fit in a full fortnight away, our 10-night holidays are perfect for you. Choose somewhere with short flights to make the most of it, so you can spend more time in the waterpark, at the beach, checking out the local sights or playing in the pool
There's so much you can do with two whole weeks! Mix it up with days at the beach, sightseeing adventures and leisurely days exploring the local shops and restaurants at your own pace. Whatever you're hoping to do, we've got a great choice of family holidays with 14-night durations. You're sure to find your perfect fortnight away with us.
Luxury Holidays
If you're in the mood for pure indulgence, you'll love our luxury holidays with Signature. What are you dreaming of? We'll help you design it, so you can unwind somewhere truly special. We've everything from bucket list destinations such as Sri Lanka and Barbados, to once-in-a lifetime adventures. And, of course, we do peaceful holidays in the sun, too.
Treat yourself to luxury by indulging in the extras, from couples' massages to plush room upgrades in our premium hotels.
Perfect for Couples
There's something really special about time away with your significant other. Whether it's your first holiday as a couple or you've been together forever, it's those shared moments that make for great memories. Find your happy place on a holiday that's perfect for couples, with pampering spas, romantic restaurants and all the calm you're dreaming of.
Have you been longing to spend some time with your loved one, but haven't had the chance yet? There's a long-haul holiday waiting just for you, from Cuba's white, sandy shores to the towering skyscrapers of New York City. Whether you're looking for endless adventures or pure relaxation, it's time to choose a holiday you'll love with the person you love.
Adventure Holidays
Dive into adventure on your next getaway with one of our Sports & Activity Holidays, with activities like snorkelling, sea-kayaking and more.
Spa & Relaxation Holidays
Melt away stress with a luxury spa treatment in an idyllic setting. Pick from island escapes, beachfront properties and countryside retreats.
Start planning your sandy getaway
Whether you're looking for a secluded spot or a lively stretch, here are the seven best beaches in the world to get the ideas flowing…
Here are our top picks…

Greece
Greece flaunts more than 200 islands, so its got everything from hidden hamlets to buzzing Blue Flag beaches.

Mauritius
The beaches in Mauritius take their cue from the Caribbean. We're talking milky-white sands, backed by tree-dotted mountains.
Florida
Florida might be known for its theme parks, but its beaches are just as fancy. Take surf-friendly Daytona on the Gulf Coast for instance…

Aruba
For milky-white sands, dotted with thatched beach huts, Aruba is your go-to. Just add a piña colada.

Thailand
Snorkel around Phuket's secluded coves, kick back on Krabi's soft sands or discover Khao Lak's world-class scuba spots.

Spain
With more Blue Flag beaches than any other European country – and 5,000km of coastline – you can see why Spain is a holiday hit.
Holiday Extras
Parking
Arrive at the airport knowing you have a guaranteed space with your name on by pre-booking airport parking. We offer a wide range of parking options at 29 major UK airports with free transfers included. Whether you're looking for park and ride, or convenient meet and greet, we have a parking option for you.

Transfers
However you plan to spend your holiday, our airport transfers make it easy to get from A to B. Our airport transfers are available 24/7 in over 7,500 cities and resorts, and 120 countries worldwide. If you're looking for shared airport shuttles, an airport taxi, minibus or even a private coach, we've got an airport transfer for every holiday.

Hotels
Start your holiday early and avoid the stress of heavy traffic on the day of your flight by booking an airport hotel. With a huge selection of over 200 2*-5* hotels to choose from, you'll be sure to find the hotel that's right for you. We've slept in every hotel we sell, so you can rest assured that you will be getting a good night's sleep.
Associate Sites: www.lapland-trips.co.uk - www.villas-with-pools.co.uk - www.coach-breaks.co.uk - www.rail-tours.co.uk - Escorted Tours - Safari Tours - www.cruise-breaks.co.uk - www.sunbreakholidays.co.uk - www.no-fly-cruises.co.uk - www.christmas-holidays.co.uk - www.christmas-cruises.co.uk
Top Travel Partners: TUI | James Villa Holidays
About Jet2holidays
Jet2holidays is the UK's second largest tour operator, offering great value package holidays from 9 UK bases to over 500 resorts across 70 sun destinations. Thanks to a continued focus on fantastic customer service, Jet2holidays were also proud to be Awarded Which? Travel Brand of the Year. You'll enjoy a huge choice of 2-5 star accommodation, with holiday ranges including Family Favourites, Luxe retreats and All-Inclusive holidays. Your package holiday also includes return flights, a huge 22kg baggage per person and return transfers, plus ATOL Protection, all wrapped up for just £60pp deposit.
Offering all the freedom of a villa with added package holiday benefits and car hire included, Jet2Villas feature villas across Europe and the Mediterranean. Meanwhile, Jet2CityBreaks give you a brilliant choice of over 30 city destinations. Each brand has unique features and destinations, but they all offer the same great value and friendly service you can always expect with Jet2holidays.