Thailand Package Holidays 2022/2023

The Land of Smiles serves up tree-lined skirts of sand, craggy limestone islands and mouth-wateringly tasty cuisine. From time-stamped temples and hidden beaches to buzzing cities and tropical jungles, holidays to Thailand have it all.
Gleaming temples, jungle-topped islands and a tonnes of beaches – say hello to a holiday in 'the land of smiles'.
Thailand Holiday Hotels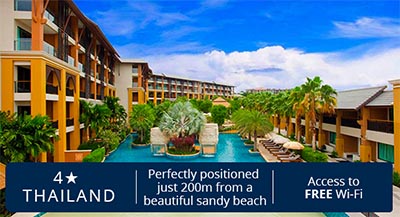 ★★★★
When you really want to get away from it all, the Ramla Bay Resort is an ideal destination. With its own 350 metre stretch of coastline, it occupies a secluded spot on the northern coast. It all feels very exclusive and when you're sipping a long, cool drink on the private sandy beach you'll appreciate just what a special resort this is.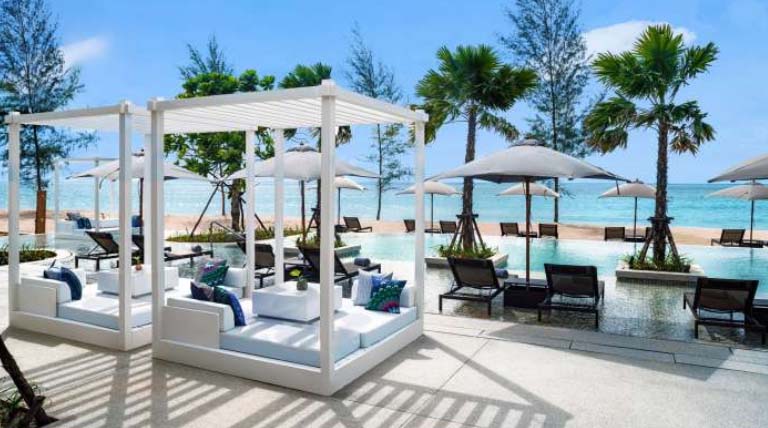 Khao Lak, Thailand
★★★★★
Perched on a divine stretch of soft white sand on Bang Muang Beach, Pullman Khao Lak Resort is your oasis of Thai tranquillity. Resting serenely in the stunning Koh Sok National Park, the resort radiates restfulness as it frames the azure Andaman Sea perfectly. 
Introducing our brand-new Multi-Centre Holidays
Deciding on just one area of this stunning country to explore is an almost impossible task. This is why we have introduced our brand-new Thailand Multi-Centre Holidays, allowing you to visit more than one destination in a single trip.
Bangkok is the country's capital and time spent here can be rewarding. Its history and culture is represented by magnificent temples and palaces, contrasting with the many shopping venues, colourful markets, restaurants and places of entertainment...
Phuket is Thailand's most popular island and holiday destination. Home to some of the finest beaches you'll find in Thailand, along with a large selection of bars and restaurants, which line the main resort areas.
Koh Samui's location in the warm, crystal-clear waters of the Gulf of Thailand means that visitors to this tropical paradise can expect palm-fringed white beaches.
Krabi's laid back rhythms, stunning crescents of white sandy beaches and broad assortment of undisturbed islets nearby serve as an idyllic paradise for sun-worshippers and adventure-lover's alike.
Khao Lak is a stunning choice for a relaxing holiday in Thailand, due to its exceptionally picturesque stretch of pristine coastline, predominantly formed of unspoiled, golden sandy beaches, backed by verdant hinterland.
Recommended Multi-Centre Getaways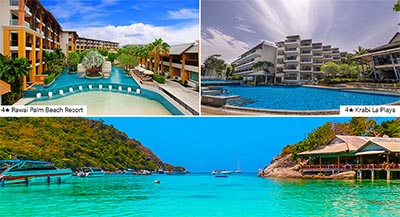 From £749pp | 6 days / 7 nights
Based on 4 ★ accommodation
A journey across Phuket & Krabi's most exotic and stunning beachfronts lets you relax in serene bliss.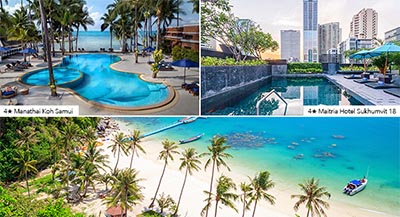 From £949pp | 6 days / 7 nights
Based on 4 ★ accommodation
Journey from Bangkok's energetic capital city to Koh Samui's harmonious crystal-clear waters on palm-fringed beaches.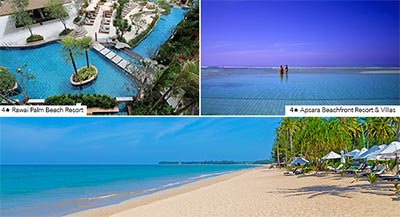 From £749pp | 6 days / 7 nights
Based on 4 ★ accommodation
For ultimate relaxation, unwind on the tranquil beaches of Phuket & Khao Lak, two of Thailand's most scenic resorts.
More itineraries to explore
Bangkok & Phuket
6 days / 7 nights from £799pp
Based on 4 ★ accommodation
Experience Bangkok's traditional culture & lively ambience before exploring Phuket's finest beaches, in two of Thailand's most popular destinations.

Bangkok & Krabi
6 days / 7 nights from £879pp
Based on 4 ★ accommodation
From the bustling city of the capital, Bangkok to the alluring beaches of Krabi, bask in Thailand's rich culture and natural splendour.

Krabi & Elephant Hills
6 days / 7 nights from £1,049pp
Based on 4 ★ accommodation
Admire exquisite natural beauty from the picturesque beaches of Krabi before delving into the depths of the thriving rainforest at Elephant Hills.

Bangkok, Phuket & Elephant Hills
6 days / 7 nights from £1,099pp
Based on 4 ★ accommodation
Explore Thailand's diversity, travelling from the cosmopolitan city of Bangkok to Phuket's charming power soft beaches and finally the flourishing rainforest at Elephant Hills.

Bangkok, Chiang Mai & Koh Samui
6 days / 7 nights from £1,245pp
Based on 4 ★ accommodation
Starting in the midst of Bangkok's bustling city centre, travel to the calm metropolis of Chiang Mai and later onto Koh Samui's inviting emerald waters.

Thailand Holidays Online