Lakes and Mountains Holidays 2022/2023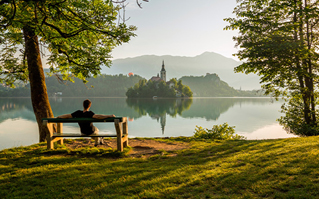 Soar off to scenery-stocked spots like Switzerland and Italy's Lake Garda.Our Lakes & Mountains holidays double down on wow-worthy scenery in top spots like Switzerland and Italy next summer.


Lakes and Mountains Holidays

in Ohrid, North Macedonia - 4T
Close to the Old Town and right on the waterfront, the Tino's in prime position for exploring Lake Ohrid.
If you're looking for a hotel right in the thick of things, the Tino's got you covered. It's across the road from the lake, and it's just a short stroll from Ohrid's Old Town too, so you couldn't be in a better spot for getting out and about each day. And there are some great facilities – start the day with a tasty buffet breakfast and a view of the lake from the restaurant, hit the spa for a little me-time and round it all off by heading next door to Tino's Pub, where there's live music and live sports screenings too.



in Ohrid, North Macedonia - 2T+
Just metres from Ohrid's historic centre and the lake, Villa Veron's a great-value stay if you're eager to get out and about. This family-run pick is the kind of place you feel right at home from the moment you arrive. It's known for its excellent personal service too, and the hosts really go above and beyond – from helping with your bags to sharing local tips for exploring the area. Location-wise, you're on a quiet street set just back from the lake promenade. And the centre of Ohrid is just a 10-minute stroll away, so you can see the sights by day, then quickly pop back to freshen up before checking out the bars and restaurants in the evening.

in Ohrid, North Macedonia - 3T
The Hotel Mizo is right on the shores of Lake Ohrid, and it's got great facilities too – there's an outdoor pool, gardens and sun terrace.
It's all about the location with the Hotel Mizo. You're right on the shores of Lake Ohrid here, and it's just a short stroll along the wooden promenade to get to the Old Town too. There's a beach out back where you can soak up the sunshine or enjoy a refreshing dip. And for a front-row seat to the lake, nab a sunbed on the pontoon – it'll be uninterrupted views of the water and surrounding mountains as far as the eye can see.
When you're not on the beach, the hotel gardens are the place to be. There's a sun terrace and big outdoor pool area with sunbeds and umbrellas, as well as table tennis, a basketball court, handball and football – so whether you're feeling active or in a stop, flop and enjoy the sun mood, the Mizo's got you covered.



in Pestani, North Macedonia - 3T
In a peaceful spot on the lake, the Villa Nika's got great views of the lake and surrounding national park.
The family-run Villa Nika is located in the quiet village of Peštani, a former fishing village on the eastern side of Lake Ohrid. You've got the lake right on your doorstep, just across the road from the hotel, and the pine forests of the Galičica national park just behind. It's conveniently located a 15-minute taxi ride from the centre of Ohrid, and it's just a 5-minute drive in the other direction to the popular Bay of Bones museum too.



in Sveri Stefan, North Macedonia - 4T
Backed by the forest and with views of the lake, the Tino's a great pick on Lake Ohrid.
A 5-minute drive from the centre of Ohrid, the Tino Sveti Stefan Hotel makes for a good base on the lake. It's up on a hill just across the road from the waterfront, so you've got fab views of the lake and surrounding mountains, especially from the outdoor pool area. Inside, the décor's neutral and there are blue accents throughout the spa, bedrooms, reception area and restaurant.



in Garda Italy - 4T
The popular La Perla has everything you need for a fun and relaxing break on Lake Garda. It's a modern place with quirky touches like pink furniture in the bedrooms and lime green seats in the lounge – which is the perfect spot to kick back with a cocktail and listen to live music. Outside, the highlight is the huge pool where you can swim, splash around or just watch the action from a lounger as you soak up some rays.



in Bardolino, Italy- 3T
The Idania's a relaxed, family-friendly hotel in a handy spot between the lake and the centre of Bardolino.
It's pretty typically Italian in style with simple furniture, tiled floors and patterned bedspreads in the rooms – plus big windows that give the whole place a light, fresh feel. And most of the rooms have a balcony so you don't even have to leave the hotel to feel the sun on your skin.



in Garda, Italy- 3T+
Handy for the lake and Garda town, the Hotel Continental's a peaceful pick that keeps people coming back summer after summer.
Family-run for generations, there's a real home-from-home feeling at this place. The local staff are always on hand with tips on where to eat or your favourite aperitif in the bar* – and after your first night, you'll probably be on first-name terms



in Bardolino, Italy - 4T+
Your perfect Lake Garda base, the Caesius is packed with things to keep you relaxed and entertained all week long.
Surrounded by gardens and pools, this pick is perfect for a week spent lounging in the sun. The lakeshore is just over the road, and Bardolino is a 30-minute stroll along the promenade if feel like exploring. And there's even a free shuttle there and back for days when you'd rather take things easy.


Lakes and Mountains Holidays
Lakes & Mountains holidays invite you to see a different side of Europe. You can stir up your senses in some truly spectacular destinations, from waterfront towns to mountain villages - and experience sparkling scenery and welcoming accommodations with family - run service. Choose your favourite Italian lake on holidays to Lake Garda, Lake Como and Lake Maggiore, and spend your days strolling around lively piazzas and elegant gardens. On a mountain holiday in Austria or Switzerland, you can expand your horizons by admiring extraordinary panoramic views, wandering through flower-filled meadows and taking part in authentic local festivals. Or discover new cultures and unmissable scenery in Germany or Slovenia. If you just can't choose, why not split your time between two destinations on one of our multi-centre holidays, or add in a day trip to a must-see European city, like Venice, Verona or Salzburg? Wherever you go, celebrate your surroundings with a Lakes & Mountains holiday this summer.
North Macedonia Holidays
Holidays to Lake Ohrid (pronounced Ock-rid) are all about exploring Europe's oldest lake, learning about local history and tucking into tasty traditional food.
Europe's oldest lake
Lake Ohrid's got some pretty impressive credentials – it's Europe's oldest lake, dating back between 3 and 5 million years. It's also North Macedonia's largest, and the deepest in the Balkans too. It's so big that at first glance you might mistake it for the sea, but it's a fresh-water lake fed by underground springs that link it with the nearby Lake Prespa, just the other side of the national park. The water here is crystal clear, and it reaches temperatures of 27°C during the summer.
On the shore
It's all about history at Lake Ohrid – visit centuries-old fortresses, churches and monasteries before tucking into local specialities at family-run kafeanas (taverns). In Ohrid, wander through cobbled streets full of vine-covered buildings, stone archways and shops selling traditional jewellery. Chill out on the beach, stroll along the promenade and visit lakefront restaurants, bars and cafés – some of them are even built over the water so you can have lunch with a front row seat to the lake.
On the water
One of the best ways to see the lake is to get out onto the water. You can swim from the shore or make a splash diving in from a pontoon – lots of the lake beaches have them. Rent a kayak to paddle out and explore for yourself or book a boat tour with a local guide who can show you around and point out all the best bits. And towards the southern end of the lake, the Monastery of St Naum and Bay of Bones Museum make for great day trips, and you can get there by boat.