Majorca Package Holidays 2022/2023

Holidays in Majorca offer an astonishing variety of things to see and do. Non-stop partying in Magaluf. Walking the broad plains and rolling countryside of Es Pla. And long tapas lunches in Cosmopolitan Palma. There's something for everyone in fabulous Majorca.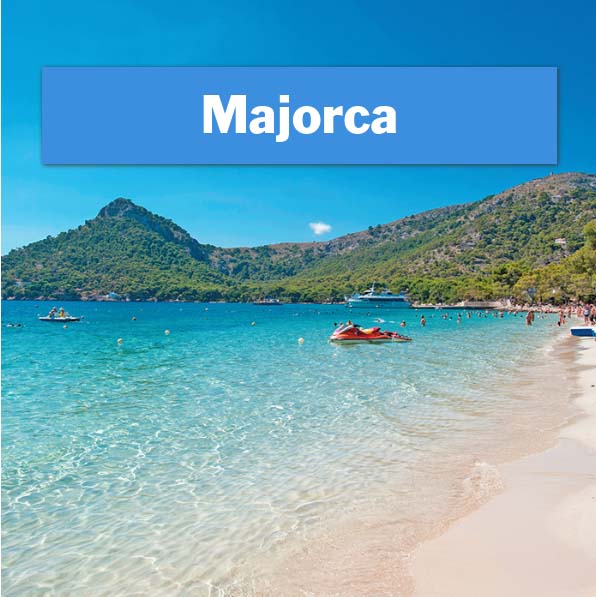 Majorca Holiday Deals
Majorca Holidays
Majorca Resorts
If you like to explore, holidays in Majorca are right up your street. Palma, the island's capital, offers a wealth of sights to be discovered. Check out some of the museums. Walk round the old cathedrals and castles. Or just kick back by the harbourside. But it's not all about Palma. From glass bottom boat rides in Calas de Majorca, to the peaceful botanical gardens of Soller, there's never a dull moment.
Majorca's the one to beat for beaches thanks to over 100 spots to sink into. Head south to Palma Nova for a long, prom-backed stretch. Further north in Acludia, enjoy a relaxed pace and an epic backdrop.
Did you know? The name of the island comes from an old Latin phrase 'insula maior? that means 'larger island', as Mallorca is the largest island in all of Spain. Gradually the phrase was mispronounced and the island became known as Mallorca. The british often call the island Majorca, whilst everyone else calls it Mallorca - there appears to be no reason for this other than the british love of the letter J rather than L!
This island's the biggest of the Balearics, so there's more than enough to keep you busy.
There are a million and one reasons why you'd choose a holiday to Majorca – sandy beaches and a trendy capital are just a couple of them.
Alcudia
On the north coast of Majorca, Alcudia sits between the Mediterranean Sea and the beautiful countryside. Alcudia is a popular place for a holiday in the sun, not just because of its long Blue Flag beach, although that probably does have a lot to do with it. As well as the beach and its seafront cafés, there's the medieval Alcudia Old Town, the Puerto de Alcudia harbour district, the lively Bellevue strip and quiet Playa De Muro.
Beautiful coast
Alcudia's beach is incredibly long, stretching around a sweeping bay all the way to the resort of Ca'n Picafort. The calm, shallow water at Alcudia beach is perfect for families, while the peaceful area at Playa De Muro is made for quieter holidays. It's here that you'll find the piled-up sand dunes and salt water lagoons of the S'Albufera nature reserve, which is a lovely place to go for a walk or sit and watch the birds.
History and culture
There's lots of history in this part of Majorca, even right inside Alcudia. The walled Old Town dates back to the 14th century and it can feel like you're walking back in time when you wander amongst the ancient churches and houses in the winding little streets. There are also Roman ruins here, including a theatre and the remains of a town called Pollentia.
There's also lots of heritage in Alcudia's menus, from the traditional places to eat and drink in the atmospheric Old Town to the seafood restaurants serving local specialities, such as sea bass cooked in rock salt, on the marina in Puerto de Alcudia.
Fun days out
You don't have to look hard to find ways to spend your time during your holiday to Alcudia. Just outside town, for example, is Hidropark, northern Majorca's only waterpark. And there's also a variety of boat trips available from Puerto de Alcudia. Cycling is a favourite holiday activity in Alcudia, as a bike ride is the perfect way to get to more out-of-the-way areas, such as S'Albufera nature reserve, or into the countryside.
Things to Do in Alcudia
Relax at the beach
The beach in Alcudia Bay is the longest in Majorca at 11km, and one of the island's very best. If you're bringing the kids for a family holiday, they'll love splashing in the shallow water and playing in the soft, white sand. Or if you need an adrenalin hit, you'll want to check out the water sports at Playa Deportivo, which is the nearest part of Alcudia beach to the town and port. This lively area also gives you the best choice of beachside food and drink, although you'll find cafés and toilets all along the Alcudia seafront for a great day at the beach wherever you lay your towel.
And if you'd like to just lie back, breathe out, and relax, we recommend you visit quiet Playa De Muro, at the far end of the beach. The sand here is next to the S'Albufera nature reserve, so it's worth the trip out of town for the pretty scenery alone. You might be lucky enough to see some flamingos, too.
Hire a bike and go exploring
Cycling is very popular in Alcudia, and one of the best routes for a gentle holiday bike ride is the cycle path to the S'Albufera nature reserve at Playa De Muro. The reserve is peaceful and full of wildlife and the lagoons and dunes feel a world away from the gentle bustle of Alcudia. If you're into bird spotting, don't forget your binoculars; you never know what you might see from the hides.
You can also use a bike to explore Alcudia itself, head out into the surrounding countryside to enjoy the pretty Majorcan scenery or set off in search of a deserted beach.
For hardcore cyclists wanting a longer ride, there are all sorts of great routes both in the area around Alcudia and across the whole of Majorca. The mixture of challenging hill climbs and leisurely coastal roads will keep things interesting.
The range of bikes available to hire in Alcudia is excellent, whether you want to go out for a few hours or a few days. If you're planning lots of big rides and want to be prepared, you can arrange your bike hire before your holiday, or you could even take your own bike with you should you wish.
Have a meal to make your mouth water
Whether you'd like a simple lunch or a slap-up evening meal, you'll be spoilt for choice in Alcudia as there are great places to eat in just about every part of the town.
The Old Town is full of local restaurants and cafés, so take a break from sightseeing or shopping and choose a pavement table where you can people-watch as you tuck into a plate of arroz brut, Majorca's version of paella. If you're on a Self Catering holiday or want a picnic for the beach, the huge markets on Tuesdays and Sundays have everything you could possibly need (look out for the chorizo-like sobrasada sausages), or you could pop into a bakery to pick up some bocadillos (filled rolls).
You'll find the mealtime atmosphere is quite different down by the marina in Puerto de Alcudia. This is where the most stylish restaurants and the best views are. For a special meal, why not treat yourself to the caldereta de lanosta, a lobster stew that features on many of the seafood menus here. Other tasty Majorcan specialities include tumbet, a baked vegetable dish, and ensamaida, a pastry dessert that's rich with lard.
And if you've had your fill of tapas and are craving a taste of home, or anywhere else in the world, the lively Bellevue strip has a great choice of international menus. Dinner here is a good starting point for a fun night of bar-hopping and clubbing, should you fancy it.
Splash down at Hydropark
You can't have a fun family holiday without a trip to a waterpark, and you won't have to go far to find this one. The thrills of Hidropark are only about 10 minutes away from Alcudia, so it's an easy option for a day out – especially as there's something there for all ages. There are fast waterslides to please your teenagers, smaller slides to entertain the kids and an activity pool for the little ones, plus a brilliant wave pool.
Should you get to the point where you can't face another slide, you could always test your skills on Hidropark's crazy golf course before you make your way back into Alcudia.
Take a walk in the Old Town
There's been a town at Alcudia since the Romans were here, but the Old Town of today is a bit newer than that; only a few hundred years old. It's surrounded by medieval walls, which you can walk along to look down on the rooftops and alleyways. This warren of cobbled streets is the place to get a feel for the local culture, with the best tapas in Alcudia, bustling little squares and all kinds of market stalls filling the cobbled streets on Tuesday and Sunday mornings.
You can find out more about Alcudia's history on a guided walking tour, or explore as you choose. Wherever you decide to wander, don't miss the ruins of Pollentia just outside the centre, where you can look at the remains of Roman houses and stand in a Roman theatre. To find them, follow the footpaths from Sant Jaume church.
As if Alcudia Old Town wasn't already quaint enough, it's even lovelier in the evenings. The bars and restaurants get lively, the lights come on, and locals and holidaymakers mingle, adding to the charming atmosphere. If you want a memorable night out during your Alcudia holiday, the Old Town is the place to be.
Magaluf
Magaluf might have a party reputation – the Balearic beach town is popular with 18 – 30s seeking cheap booze, cheap sun and cheap fun – but there's plenty of other things to enjoy, not least its beaches. On the party front, Majorcan authorities have taken steps to reign in Magaluf's party crown in recent years, so it's not as wild as it once was.
If you're just looking for a pool to flop next to for a week, it still offers great value and good weather.

Go early June or late September to get the best deals and avoid the worst of the crowds.
Sa Coma
There are a million and one reasons why so many people go on holiday to Majorca – knockout beaches and a trendy capital are just a couple of them.
Majorca Holidays Online