Sicily Package Holidays 2022/2023

Tempted by holidays to Sicily? If so prepare to be overwhelmed by its contrasts, landscapes, beaches and amazingly diverse, ancient heritage. From its bubbling capital Palermo to age-old Roman and Greek ruins, sun-drenched sands and the ever-present, smouldering Mount Etna, this is one island overflowing with treasures.
Sicily Holiday Accommodation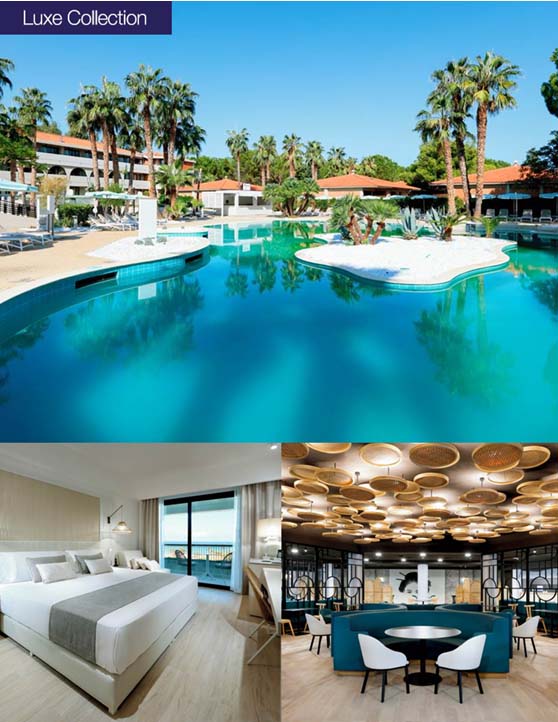 Grand Palladium Sicilia Resort & Spa
Campofelice Di Roccella, Sicily
★★★★★ | Our Rating
Boasting an enviable location close to the mountains and stunning Mediterranean ocean, the brand new Grand Palladium Sicilia Resort & Spa is perfect for a relaxing break away just 15 minutes from the bustling medieval city of Cefalu. 
The picturesque island of Sicily will charm you with its green mountainous landscape, historic monuments, fragrant vineyards and citrus tree lined coastlines. Sicily is the perfect destination for couples and groups, who want to explore the ancient ruins, relax along the rustic beaches and dine on delicious Italian cuisine. With plenty of beautiful sites to explore, it's easy to see why this romantic slice of haven is so desirable.
Excellent beaches
Sicily has a range of beautiful beaches, some with soft sand, others are pebblier, so you can tailor your beach day accordingly. Large larva rocks speckle the warm shallow waters of Sicily's coast adding to the striking scenery. The costal town of Taormina is mainly known for its long stretch of sandy shores. Enjoy reclining on sun loungers under parasols, taking in the picturesque views of the turquoise coast against the golden sand. There's plenty of opportunity for water sports where you can paraglide, hire a pedal boat or snorkel in the shallow mangroves.
History and culture
Sicily has a rich, complex history, which can be seen through its ancient ruins that have a wide range of cultural influences taken from Phoenician, Greek, Roman, Byzantine, French, German, Spanish and Italian civilisations. Visitors can see Greek temples, Roman villas, Norman cathedrals and traditional Italian architecture on the island. Sicily became a part of Italy in 1860 but only converted to an autonomous region in 1946 with help from the Italian Republic. The region has a heavy religious culture with a number of festivals celebrated throughout the year.
Nightlife
Sicily is extremely traditional so the nightlife typically follows the same pattern of being quite low key. You'll find bars and clubs that stay open late in certain areas, but the majority of nightly entertainment is focused in the restaurants and hotels. Enjoy a delicious Italian meal with a glass of local wine at a hillside restaurant whilst the sunsets over the beautiful coastline.
Things to do
Cavagrande del Cassibile
Spend a day at this secluded oasis, hidden in the hills near the little town of Avola. The Cavagrande del Cassibile is one of Sicily's best kept secrets with its natural rock formations creating a system of fresh water ponds and impressive waterfalls. This gorge was originally shaped by ancient lava, which flows from Mount Etna. The canyon is about 10km long with dramatic waterfalls standing over 500 meters in some points.
View the spectacular scenery and panoramic sights from the viewpoint to see the delicate path of the Cassibile river in the green forestry. After photo opportunities, enjoy wandering down the walking trails to the base of the nature reserve. Visitors have the opportunity to bath in the collection of fresh water ponds and swim in the small rocky lined lakes.
Trek up Sicily's Mount Etna
Sicily sits on the tallest active volcano in Europe, Mount Etna standing at 10,890 feet. Get a feel for the majestic mountain by trekking on foot to see the nature, wildlife and ancient larva trails. Either stroll or climb through the mountain's rich countryside, when you reach the top prepare yourself for breathtakingly beautiful, panoramic views of the Ionian Sea. There are plenty of routes to choose from that will suit all levels of ability.
Take the opportunity to walk around the older craters or ride in a cable car up the volcano's side to access a trail that takes you onto several summit craters at 2,900m above ground level.
Visit the Valley of Temples in Sicily
Spend an afternoon at arguably Sicily's most famous site, the Valley of the Temples in the historic hilltop city of Agrigento. The dramatically preserved UNESCO archaeological park is a huge 1300-hectares in size and home to eight temples that were built approximately between 510 BC and 430 BC. See the remains of coloured statues of important deities, stone columned structures and striking Byzantine tombs that were built into the city walls.
The park is also home to the remarkable Tempio della Concordia. Its grand Greek structure is impeccably preserved and has survived almost entirely since construction in 430BC. Take the time to see the other remarkable temples and relics, which all have unique markings and carved decorations.
Sicily is a rustic paradise of lush nature and historical dwellings. There is a lot to do on the bustling island from scaling dramatic highs to reach volcano summits, to exploring rich history in the ancient towns and UNESCO sites. Both couples and groups will be inspired by the interesting activities on this picturesque island.
Sicily has a kick in more ways than one! Not only is it at the end of boot-shaped Italy on the map, it's also a proud grower of the zesty lemons that give limoncello its sweet yet sharp taste.
Sicily Holidays