Algarve Package Holidays 2022/2023

The Algarve has drawn visitors, siren-like, to its sun-drenched shores for years – its gently shelving beaches and warm air currents make for a tempting mix of ingredients. The coastline is simply beautiful – long stretches of golden sands are washed by refreshing seas and red sandstone cliffs seclude delightful bays.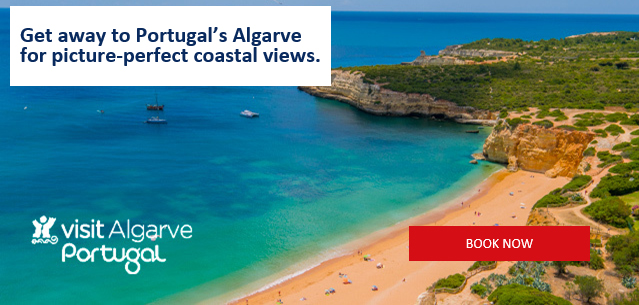 Algarve Holiday Deals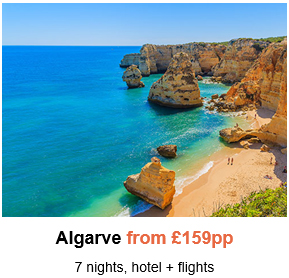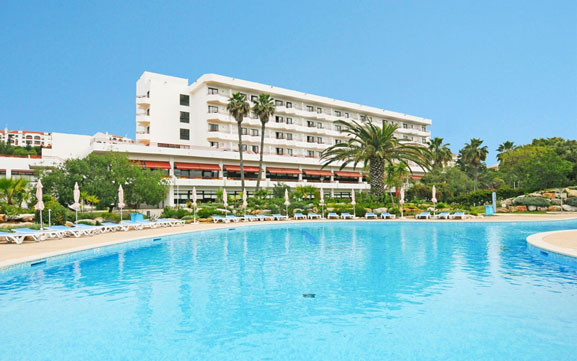 Stay for 21 nights only pay for 15 nights
3★ Inatel Albufeira, Algarve
3 weeks Half Board from £471pp
Book early and save up to 10%
Valid from Stansted on 01 Dec 22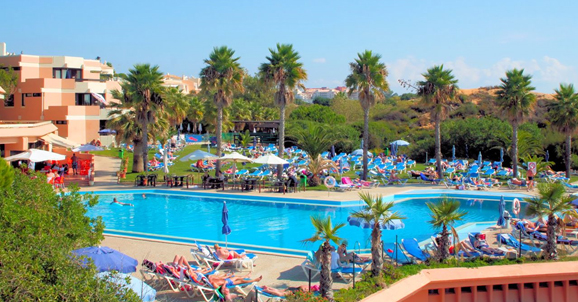 3rd week free saving you up to £100pp
3★ Auramar Beach Resort, Algarve
2 weeks Half Board with a 3rd week free on Room Only from £424pp
No supplement for single travellers available on selected dates
Valid from Stansted on 31 Oct 22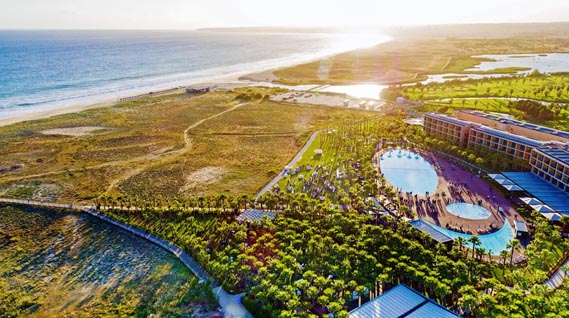 Free Wi-Fi throughout the hotel
5★ Vidamar Resorts Algarve, Algarve
A week All-Inclusive from £433pp
Extensive range of on site facilities
Valid from Stansted on 10 Nov 22
Algarve Hotels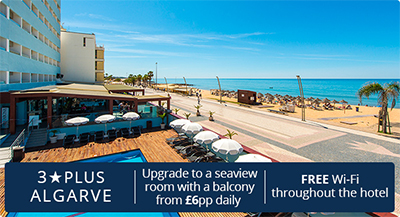 ★★★ PLUS
Sun-kissed Quarteira in central Algarve is one of southern Portugal's top holiday resorts; here, overlooking a beautiful expanse of sandy beach, you'll find the Dom Jose Hotel.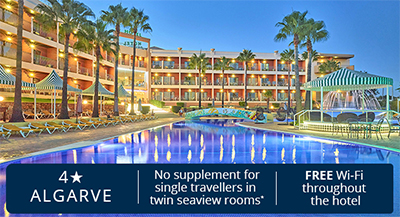 ★★★★
Beautifully situated, overlooking the sea at Sesmarias, the Baia Grande hotel is a wonderful example of a hotel that meets all those criteria. Set in elegant, well-tended lawns, it shows how a modern hotel can look at one with its surroundings. You'll be assured of a warm welcome and a very comfortable stay – the wide ranging amenities mean you'll want for nothing.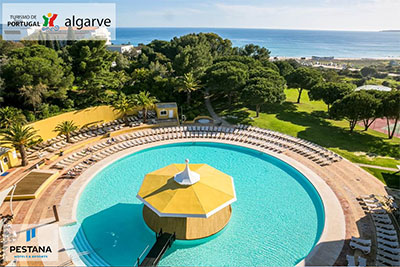 Pestana Delfim All Inclusive & Beach Resort
Alvor, The Algarve
★★★★ | Our Rating
This is another hotel that's ideal for families. Revel in lazy days as you'll be close to the beach, then take advantage of à la carte dining at mealtimes. While the kids make friends in the children's club, why not have some time to yourself on the nearby golf course or with various sports classes? Regroup to make the most of All Inclusive.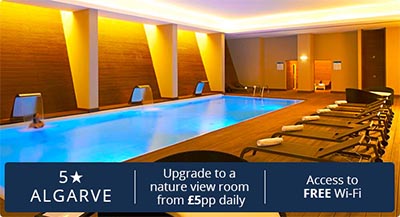 ★★★★★
Situated west of Albufeira, this luxurious property is surrounded by the flamingo occupied Salgados Lagoon and nature reserve, with a short stroll across a wooden walkway opening up to a secluded sandy beachfront. For guests wanting to take advantage of the Vidamar Resorts' stunning natural surroundings, the nearby 18-hole golf course is an ideal location for enjoying the sublime Portuguese weather.
Albufeira, The Algarve
★★★★| Our Rating
On the outskirts of the busy resort of Albufeira is the welcoming Albufeira Sol Hotel & Spa. With tranquil gardens providing peaceful sunbathing spots and a short walk to the bustling Albufeira 'Strip' with plenty of bars and restaurants to try, the hotel's popularity for offering a well-rounded holiday combining fun and relaxation can be found. Studios and suites provide a modern and comfortable stay and offer living areas to make you feel more at home, although the weather is a giveaway that you're not at home!
Albufeira ★★★
Not surprisingly, people who love going to Albufeira love staying at the Inatel Albufeira. This wonderfully friendly hotel is located right in the heart of Albufeira making it the perfect place for holidaymakers to make the most of the gateway to the Algarve.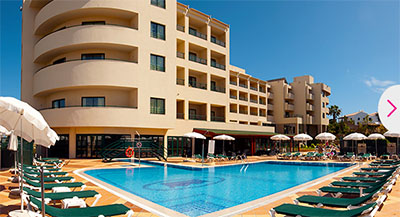 ★★★★
The fabulous four star Real Bellavista Hotel and Spa combines the contemporary and stylish atmosphere and surroundings of a city hotel with all the facilities of the perfect sunshine holiday resort. Ideally located in a quiet area of the popular tourist resort of Albufeira, you'll be within easy walking distance of an eclectic mix of shops, restaurants and bars. A courtesy bus also takes guests to the resort centre and local beaches.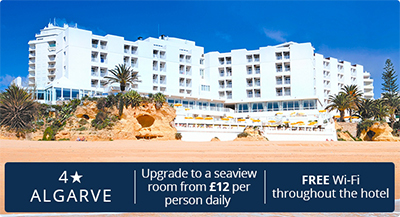 ★★★★
This 4-star hotel occupies a prime beachfront location in the resort of Armação de Pêra with stunning panoramic views of the ocean and is surrounded by fishing villages. It is within walking distance to a selection of shops, cafés, restaurants, and entertainment of the resort. A regular bus service operates to nearby towns and villages.
Tavira, The Algarve
★★★★ | Our Rating
Picture paradise. A brilliantly located property situated in the heart of the Ria Formosa Natural Park, the brand new AP Cabanas Beach & Nature is the adult friendly hotel offering All Inclusive and top rate service.
Albufeira, The Algarve
★★★★ | Our Rating
The Santa Eulalia Hotel & Spa is in a fantastic location, close to the beach and an array of shops, bars and nightlife. Just a short bus ride away is Albufeira's Old Town, worth a visit from those looking to get a real taste of traditional Portuguese cuisine. 
Praia Da Rocha, The Algarve
★★★ | Our Rating
Offering spacious apartments in a friendly complex style, the Club Amarilis is perfect for families or friends. The self-catering during the winter allows you plenty of freedom to explore the stunning coast, whilst the All Inclusive during the summer means it's ice creams all round! Situated in a great location for the beach and resort amenities, this hotel provides a comfortable base for your next break.
Praia Da Rocha, The Algarve
★★★★ | Our Rating
Team contemporary design with sophisticated features and what do you get? The adults only Jupiter Marina Hotel. Set your suitcase down here in pretty Praia Da Rocha and prepare for incredible views from the rooftop infinity pool, a sublime spa and 24-hour self-service lobby bar. 
Vilamoura, The Algarve
★★★★★ | Our Rating
Indulge yourself in at the Tivoli Marina Vilamoura. Surrounded by the famous Vilamoura Marina with direct access to the sandy beach, this hotel boasts spacious rooms and excellent service for a holiday to remember. Sunbathe around the stunning freshwater pools or chill at the Purobeach Beach Club.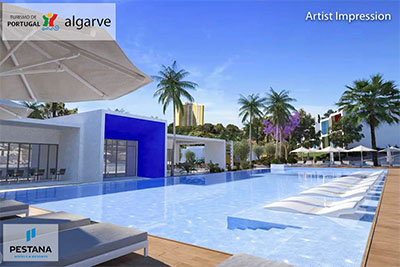 Pestana Blue Alvor All Inclusive Beach & Golf Resort
Alvor, The Algarve
★★★★ plus | Our Rating
Step into a well-rounded property that's brand-new for 2019. Families will feel nice and comfortable as there's a fantastic children's club and extensive entertainment programme. Meanwhile, three pools, four restaurants and chic guestrooms will entice couples as well. And, to make things simple, you can enjoy All Inclusive board basis.


Pine Cliffs, A Luxury Collection Resort
★★★★★
This large resort has influences from Portugal's Arab heritage, and beautiful architecture which creates a charming setting. It sits in beautifully landscaped gardens overlooking the Atlantic Ocean and red sandstone cliffs, with direct access by lift and steps down to Praia da Falésia.
Albufeira, The Algarve
★★★★ Plus | Our Rating
Whizz down colourful waterslides and dodge the tipping water buckets at Jupiter Albufeira Hotel's on-site splash park! When you stay at this Family Luxe property, you'll soon see it's made for days in the rays. Four outdoor pools, super-plush rooms and All Inclusive board as standard are all part of its best bits. 
Albufeira, The Algarve
★★★ PLUS | Our Rating
Looking for a simple self catering beach holiday? Well look no further than the 3HB Golden Beach! Comfortable apartments complimented by friendly and helpful staff produces a superb getaway in the popular resort of Albufeira. The location places you within easy reach of one of the Algarve's famous golden, sandy beaches but also a short walk from plenty of bars and restaurants to try.
The Algarve might be Portugal's most popular holiday hotspot, but it still has plenty of secrets. A record-breaking 17.4 million tourists visited last year, drawn to the sweeping beaches, cute cobbled streets, and modest prices. But if you think the Algarve's all about tanning, kids' clubs and golf, think again…
There are countless reasons to visit the Algarve – whether you're seeking a great family getaway or a romantic escape. If there's one standout feature that makes your holidays to the Algarve worthwhile, its the beaches – stunning sweeps of coastline begging to be explored and home to hidden coves that lend perfectly for families. Away from the beaches, there's enough to keep you occupied in the resorts too. Albufeira offers a multitude of experiences, with charming cobbled streets making way for colourful market stalls and open-air bars perfect for lingering with a cocktail. If you'd rather embrace a little activity on your Algarve holidays, you're in luck. Lagos boasts many beaches ideal for surfing as well as some particularly gorgeous views. Golf fans will also find the opportunity to improve their handicap on one of the Algarve's championship golf courses. Whatever you're searching for in a holiday, you can guarantee the Algarve will fulfil your fantasies.
Escape the crowds and unwind on the sandy shores of the Algarve, with average temperatures reaching a pleasant 23°C in autumn.
You'll be spoilt for choice with the Algarve's silky soft beaches. You'll find the tourist hotspots with their café-lined promenades, and the quieter spots that are great for a bit of shade in the warm climate.
If you want to see dolphins in their natural environment, head to Mar Ilimitado at Sagres. You might even see porpoises and sea turtles, as well as lots of interesting birdlife.
A bit of a history-buff? Castle ruins, charming churches and fabulous fortresses are just the start around these parts.
Discover the secret Algarve
The Algarve might be Portugal's most popular holiday hotspot, but it still has plenty of secrets. Sure, a record-breaking 17.4 million tourists visited last year – drawn to the sweeping beaches, cute cobbled streets, and what are probably the most modest prices for food, drink, accommodation and car hire in Western Europe. But if you think the Algarve's all tanning, kids' clubs and golf, think again. With around 100 miles of Atlantic coastline to explore, there's so much more - from kayaking with flamingos to discovering dinosaur footprints. And whether you're in a hotel, self-catering apartment or villa (where car hire is often included), it's all within easy driving distance. Here are our favourite ways to see what we call 'The Alt-garve'.
Portugal's pretty Algarve region has everything you need for a holiday to remember. The sea shimmers in every shade of blue against a rugged coastline, while the sun shines on average for more than 3,000 hours per year. Sound like your kind of getaway? Let's take a look around…
Portugal's dazzling south coast is home to a whopping 93 Blue Flag spots where pristine sands and excellent facilities come as standard. Praia da Marinha's glistening turquoise waters are too good to resist, while the burnt orange ombre cliffs at Praia de Falésia provide a truly unique backdrop to your day's sunbathing.

The country's golf courses are some of the most top-rated in the world, so much so that Portugal won World's Best Golf Destination 2018 at the World Golf Awards. If you'd prefer to explore on two feet, or even two wheels, there are varied routes and paths to suit everyone from beginners to pros.

Brit-favourite piri-piri chicken originates from here and authentic versions taste even better than the ones back home. If you're a sucker for seafood, a traditional cataplana filled with juicy prawns and delicate clams is a must-try! A flaky pastel de nata tops it all off perfectly.
Peaceful Algarve – cycling unspoilt villages
The Algarve spans the width of Portugal, from east to west along the south coast. It's a scenic stretch of glittering sea and rustic green hills - so no wonder some bright spark created a cycling trail that takes you all the way from one side to the other. The Ecovia starts at Vila Real de Santo António (VRSA), on the border with Spain, and ends at Cape St Vincent, the most south-westerly point on the continent. And while only serious cyclists would take on the whole route, a leisurely pedal from one little village to the next on this biking track is a lovely day out. Try the gentle, 27km segment between VRSA and Tavira in the east. Passing peaceful orange groves and fields, you'll end at one of the region's most traditional villages - quiet Tavira is all small cobbled squares, historic churches and blue-tile houses.
Quirky Algarve - anchor graveyard & bone chapel
While you're in the eastern Algarve - easily accessible from Faro - check out the spooky 'anchor graveyard' on Barril beach. A Blue Flag-accredited sunbathing spot, you'll find Barril on Tavira Island, accessed by miniature train. The strange sight of rows and rows of neatly plotted, giant rusting anchors commemorates the tuna fishing trade that once sustained the whole area. Even spookier is the Chapel of the Bones near Olhos D'Agua, decorated with 5,000 human skulls and bones. Eeek.
Wildlife Algarve - kayaking with flamingos
Also near Tavira, natural marine park Ria Formosa, is a collection of lagoons and quiet islands that feels like your own private slice of Portugal. Untroubled by crowds, the best way to see it is from a kayak, so you can explore little waterways and find your very own stretch of sand. There's no current, which makes for easy paddling, and the resident flamingos add a vibrant splash of colour.
Foodie Algarve – gypsy markets & secret backstreets
Loulé, about 20km from Albufeira, is known for its Saturday morning 'Gypsy Market' - a buzzy maze of stalls selling everything from hand-painted honey jars to decorated tablecloths. Foodies in particular will love the local produce. Gourmet treats include homemade bread, piles of cakes and authentic local piri-piri sauce (sorry, Nando's). Seafood fans should make their way to nearby Quarteira, near Vilamoura - dive into the town's backstreets for unassuming shacks serving up garlicky clams drizzled with olive oil, enormous crabs and fried octopus.
Hidden Algarve - seek out secret beaches
The region's beaches get busy come high summer. But with so many to choose from, there are a bevy of secluded beauties still flying under the radar. Praia de Salema, in the western Algarve near Sagres has secluded coves and dramatic cliffs aplenty – kids will enjoy the dinosaur footprints fossilised in limestone at the western end of the beach. The area is part of the protected Costa Vicentina Natural Park, so there's little development here - just bobbing fishing boats, a few restaurants and gentle sea that's perfect for swimming.
Surfing Algarve - discover laid-back Sagres
Sagres is a low-key surf town right at the Algarve's western tip. Thanks to the epic views over the seemingly endless Atlantic, when the Romans arrived here they thought they'd reached the end of the world. With no high-rise buildings, and a handful of casual cafés cooking cheap but standout seafood, it's an unflashy sanctum popular with the bohemian set. While strong north-westerly winds here whip up world-class waves for surfing, kitesurfing and windsurfing, beginners should head to Cordoama beach, which is more sheltered and prone to gentle rollers – especially in summer.
Local Algarve - firewater & wild honey
While everyone knows about Portugal's love of port, piri-piri and seafood, not everyone knows about the Algarve's local delicacies. Aguardente de Medronhos, or 'fire water', is a handcrafted, fiery brandy made from the region's Medronho fruit - a nobbly red berry. You can  visit a distillery to learn about - and, more importantly, sample - the drink, which is produced on such a small scale, you won't find it in supermarkets. Then there's the famous wild honey of Monchique cultivated by local beekeepers. Pick some up on your way to the viewpoint at Fóia Monchique, the Algarve's highest mountain, just above the town.
DISCOVER MORE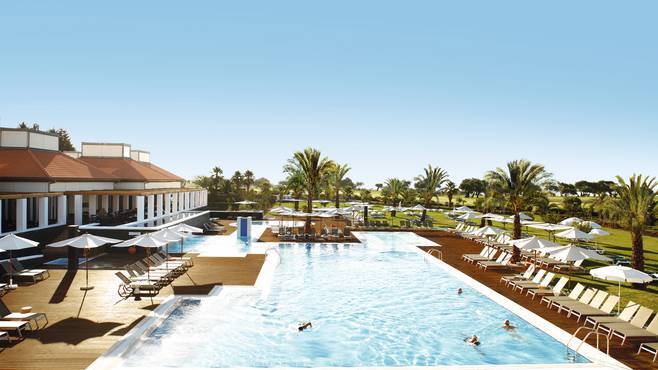 Robinson Club Quinta da Ria
Set in a pretty nature reserve, the Robinson Club Quinta da Ria is in the eastern Algarve near Tavira, and even offers guided cycling tours.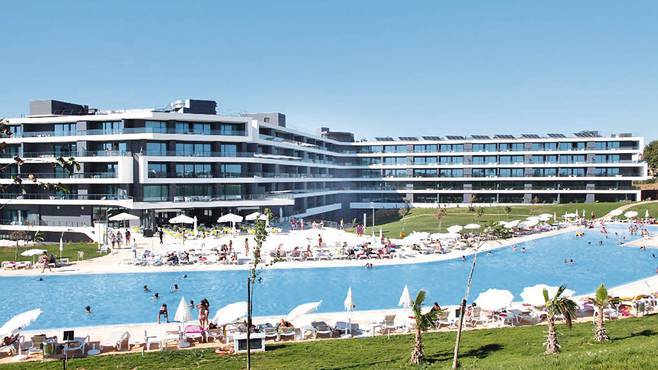 Alvor Baia
Family-friendly Alvor Baia boasts self-catering apartments, a huge pool and a free shuttle bus to the beach.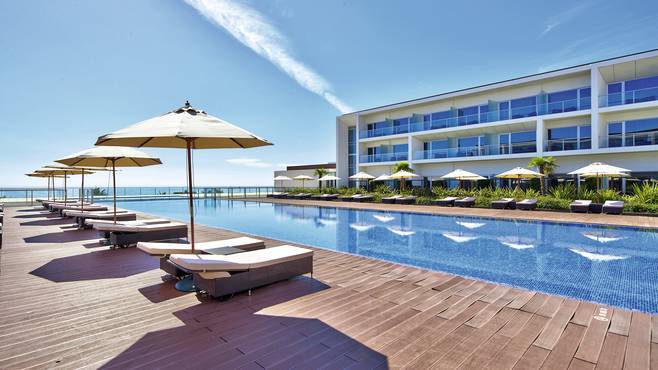 Sensimar Lagos
In the western Algarve, adults-only Sensimar Lagos is a romantic hideaway surrounded by sea views. The spa specialises in made-for-two massages.