Lanzarote Package Holidays 2022/2023

Bathed in sunshine and boasting glorious beaches, Lanzarote is considered by many to be the most beautiful of the Canaries. Swirling multi-coloured rock strata, soaring purple volcanic peaks and jet black solidified lava streams punctuate Lanzarote's stark, moon-like landscape giving it a hauntingly beautiful, otherworldly magnificence.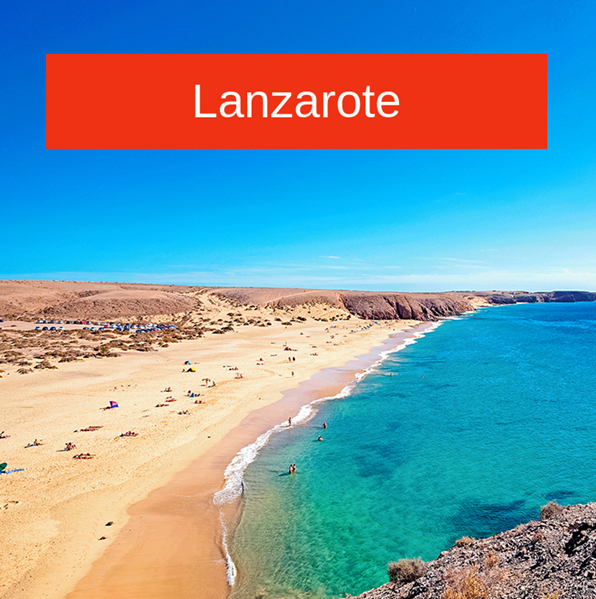 Lanzarote Holiday Deals
Lanzarote Holidays
Lanzarote Holidays Online

Did you know? In Lanzarote's most popular attraction, the park features amazing volcanoes and surreal coloured lava fields, but one of the most interesting thing about the park is that the heat of the volcano is used for cooking steaks and fish for visitors. The grill consists simply of nine layers of volcanic rock, which surprisingly makes for the perfect cooking pit.
A stunning volcanic island surrounded by a bright blue sea, Lanzarote is a luxury holiday destination for sun seekers and thrill seekers alike. It is known for its unearthly landscapes, gorgeous beaches, friendly locals, and vibrant nightlife. This is a place where there's always something new to see or do.

Lanzarote has a pleasant climate all year round and very little rain. The hottest weather is usually between June and September but this can sometimes be too hot for visitors who want to do more than spend their time on the beaches. For a more active holiday, it is better to go in April, May, October, or November. Visitors should note that most parts of the island are windy throughout the year, so despite the heat it may still be a good idea to bring a windproof jacket.
Some of the best beaches in the Canary Islands, plus a landscape that is out of this world.