Dubai Package Holidays 2022/2023

Combining a cosmopolitan cityscape with pristine beaches, Dubai is a beacon of beauty against a backdrop of desert dunes. This destination is one of the seven kingdoms of the United Arab Emirates (UAE) and rivals London, Paris and New York for luxury, culture and entertainment.
Dubai Holiday Hotels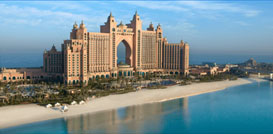 Hotel Jumeirah Zabeel Saray – 5*

Hotel Jumeirah Zabeel Saray is a five-star pick located on the exclusive crescent of Palm Jumeirah Island – Dubai's iconic, man-made island. A perfect venue for a luxury family or couples' holiday, this hotel offers a private beach, an infinity swimming pool, high-class restaurants and a kids club.

Habtoor Grand Resort and Spa – 5*

A grand five-star complex located on the enchanting beachfront, the Habtoor Grand Resort and Spa is a stylish property offering the perfect mix of entertainment and relaxation facilities to cater to every guest's needs. Featuring six restaurants and nine bars, this spectacular hotel is a fantastic choice for an exciting stay in the glamourous city.
Dubai Holidays Online
Beaches
The warm waters of the Arabian Gulf are fringed with white sand along Dubai's celebrated coastline. Stunning beaches such as Jumeirah and Kite Beach make the nearby urban centres seem like a distant memory, whether you want to relax, try out some water sports or simply walk along the breath-taking shores.

Food & Drink
Due to its diverse, international nature, Dubai is home to global cuisine of all kinds. The vibrant Sheikh Zayed Road is an excellent place to start for top-quality restaurants. For fusion cooking, try Nobu, Zoco or Enigma, or for authentic local flavours look out for venues that serve shawarma, falafel and tabbouleh. Alcohol can only be consumed in designated areas such as hotel bars; local non-alcoholic alternatives include ayran (a yoghurt drink) or black coffee.

Culture
Dubai has its roots in Islamic and Arabic traditions, and has become a world centre for modernity and innovation. Beautiful mosques share the skyline with state-of-the-art skyscrapers, perfectly demonstrating the two harmonious sides of this city. Wind your way through futuristic shopping malls or barter at souk stalls for spices, clothes and perfume; old and new, Dubai has it all.
Nightlife
With nightclubs that attract internationally successful DJs and musicians, Dubai more than earns its reputation as an upmarket party destination. Here, the working week finishes on Thursday, making this and Friday the hottest nights to go out. Typically, mid-week Ladies Nights offer free entry and free drinks to female visitors, and you can out-party Cinderella and stay out past midnight – clubs don't close until 03:00.
Key Information
Here are some key pieces of information that you may find useful to help promote Dubai...
An all year round destination with temperatures around 35°C in July & August and even 20°C in Dec & Jan
Approx 6.5 hour flight from UK and they're 3 hours ahead
Regular flights from across the UK
A city/beach destination – great for shopping and taking in some sites as well as lounging on the beach