Goa Package Holidays 2022/2023

East meets west in Goa. This stretch of India's west coast offers up action-packed beaches, Technicolor markets, and European culture.
Goa Holiday Accommodation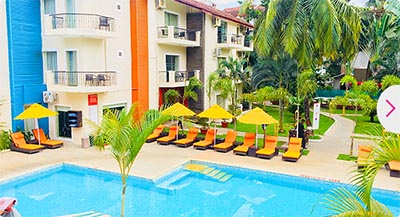 Kyriad Prestige Hotel Calangute
★★★★
This modern and contemporary hotel offers good guest facilities with a range of amenities including a spa and outdoor swimming pool. Ideally situated in the heart of the popular coastal town of Calangute, a short walk leads directly to the lively centre, which boasts a variety of restaurants and bars, making the hotel perfectly positioned.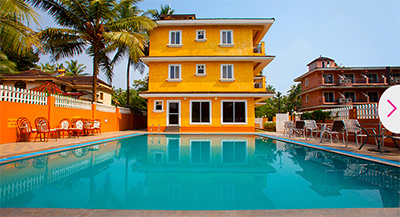 ★★★ Plus
Nestled within gardens and surrounded by swaying palm trees offering a tranquil atmosphere, Jasminn by Mango is the perfect place to unwind. With a choice of restaurants and two swimming pools, this superb hotel provides excellent guest facilities whilst being within easy reach of the quintessential centre of Betalbatim and Colva's white sandy beach.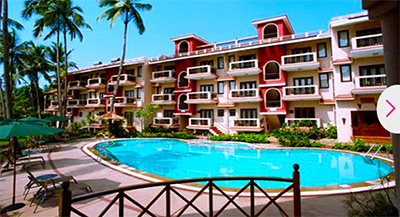 Lazy Lagoon Sarovar Portico Suites
★★★★
Situated on the banks of the Baga River, with calming views over a lagoon, this four-star hotel provides the perfect place to relax. Relaxed Calangute, lively Baga and sixties hangout Anjuna all benefit from distinct charms making each of your beach trips a new experience, should you choose to frequent them all. It's what they have in common though that has kept visitors coming back to Goa for decades; beautiful golden sands backed by palm trees, a distinctly Goan laid-back atmosphere and spectacular Arabian Sea views.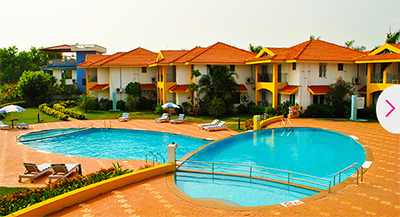 ★★★★
Hidden away beside one of Goa's most serene beaches, this four-star beach resort offers guests true Goan hospitality. Known for its cleanliness and beautiful sunsets Sernabatim's main appeal lies in its tranquillity. Quieter than most Goan beaches with just a small selection of sleepy restaurants and bars, guests can simply relax without distraction and enjoy the peaceful sound of the waves and ocean breeze.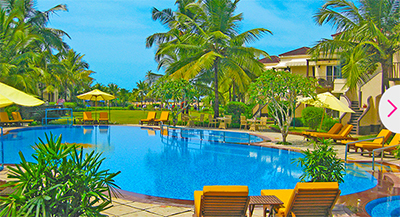 Royal Orchid Beach Resort & Spa
★ ★ ★ ★ ★
Situated in the stylish, yet secluded beach resort of Utorda, this luxurious hotel offers direct access to the palm-lined, soft white sands of Utorda beach and is perfect for anyone looking to escape from it all and relax. Utorda is famous for its fresh and exotic seafood and delicacies such as red snapper, king crab or tiger prawns are never far away, whether you prefer them simply grilled or cooked in a traditional Goan curry.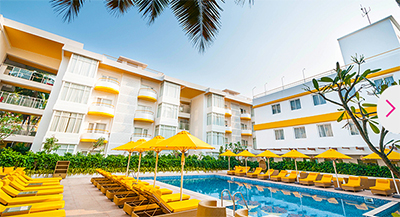 ★ ★ ★
Bloom Suites is a 3* hotel located in Calangute, North Goa. You are just five minutes away from the beach during your stay here as well as a few minutes from Calangute Market. With yellow being the hotel's primary colour, it gives an incredibly bright feel which will really kickstart your holiday.
Goa Holidays Online